Huawei announced the launch of Generation 2 of HUAWEI IdeaHub series to boost productivity for smart offices in the Middle East. HUAWEI IdeaHub S2 and HUAWEI IdeaHub Board 2, are designed to accelerate intelligent collaboration across various industries, redefine communication to create better customer value and enhance operational efficiency.
HUAWEI IdeaHub S2 is pushing the flexibility of any cloud and on-premise meeting to the next level with Bring Your Own Meeting (BYOM), HD immersive meeting quality, Wi-Fi 6 that allows Visitor Projection without joining customer network, and Multi-Window for Dual App & Dual OS Multitasking. It injects intelligence into various office scenarios and integrates a series of cutting-edge technologies to deliver efficiency and convenience tailored to customers' needs, making it a perfect choice to help every workspace to go digital.
Liu Gui, Vice President, Marketing and Solution Sales, Enterprise Business Group, Huawei Middle East , said: "Digital transformation is accelerating rapidly across various sectors and reshaping the way organizations function and people work and learn. It is, therefore, essential for enterprises and in particular the education sector to fully embrace digitalized systems to accelerate smart office and teaching experiences. With our advanced smart office and education system, Huawei can empower new levels of intelligent communication and collaboration capable of supercharging work efficiencies."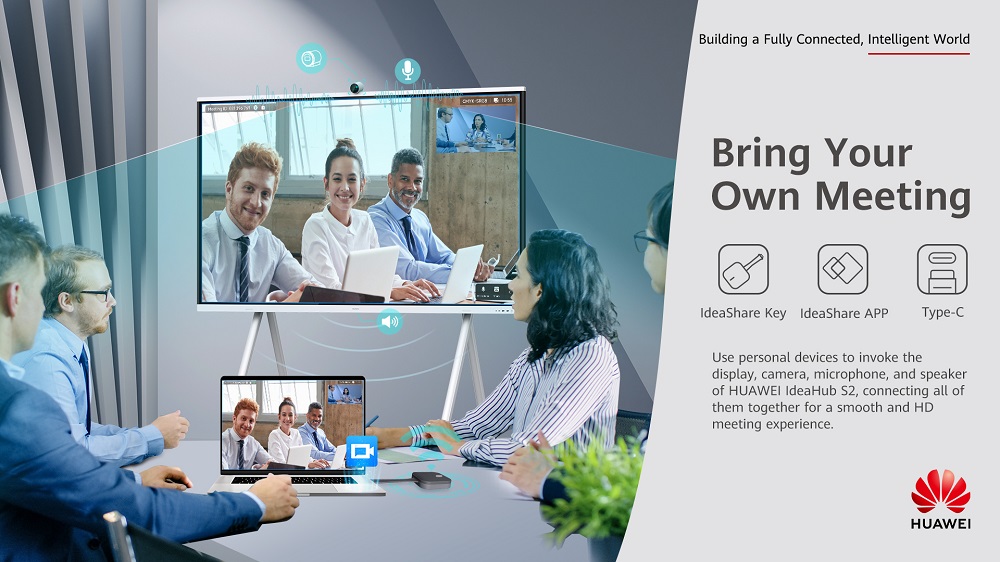 HUAWEI IdeaHub S2
HUAWEI IdeaHub S2 is designed based on Huawei's accumulated expertise in professional video conferencing technologies for nearly 30 years.
The BYOM design allows users to seamlessly transfer meetings on a mobile phone or PC to the panel, signaling the shift toward intelligent meetings, while the new Wi-Fi Direct technology enables users to implement one-step projection. In addition, the Multi-Window feature is supported, allowing you to effortlessly multitask, such as browse information and write on the whiteboard simultaneously, boosting working efficiency. Over 1,000 apps are ready with the App Multiplier function for easy content navigation in dual windows, giving you a larger area to perform tasks. The IdeaHub S2 features six open capabilities over the meeting, whiteboard, projection, user interface (UI), management, and enterprise customization, allowing quick integration for partners' apps.
HUAWEI IdeaHub Board 2
The HUAWEI IdeaHub Board 2 encompasses three key applications: digital classrooms, collaborative classrooms, and hybrid learning, to promote flexible, high-quality teaching and learning.
Featuring dual Wi-Fi and a stable anti-interference design, IdeaHub Board 2 allows for reverse control, including page turning and annotation for truly flexible interaction. Its 4K High Definition (HD) display and 1.07 billion colors, HUAWEI IdeaHub Board 2 delivers genuinely true-to-life images from presentations to videos. Moreover, it includes distributive smart office collaboration, ultra-low latency writing, mainstream cloud conference ecological adaptation, and more.