TerraMaster presents the F5-422 5-bay NAS with 10 GbE port for high-speed networking. It can be easily integrated into existing networks using CAT6 cables. This makes it an ideal storage upgrade solution for professional workspaces that want to adapt high-speed 10GbE networking for fast, high-capacity storage.
The TerraMaster F5-422 is ideal for professional users and organizations pursuing a cost-effective storage solution that takes advantage of 10 Gigabit networking. It is also compatible with 2.5GbE and 5GbE networks.
Powerful Hardware Configuration
The TerraMaster F5-422 comes equipped with an Intel Celeron quad-core 1.5 GHz processor equipped with a 10 Gigabit Ethernet port and two 1,000 Mbps Ethernet ports, all of which supports network aggregation to deliver speeds of up to 670MB/s read and 650MB/s write.
Fast Ethernet Solution
The 10GBASE-T RJ45 port offers superior data transfer rates compared to standard 1GbE port. The F5-422 is also compatible with 2.5GbE and 5GbE network equipment without the need for network cable replacement.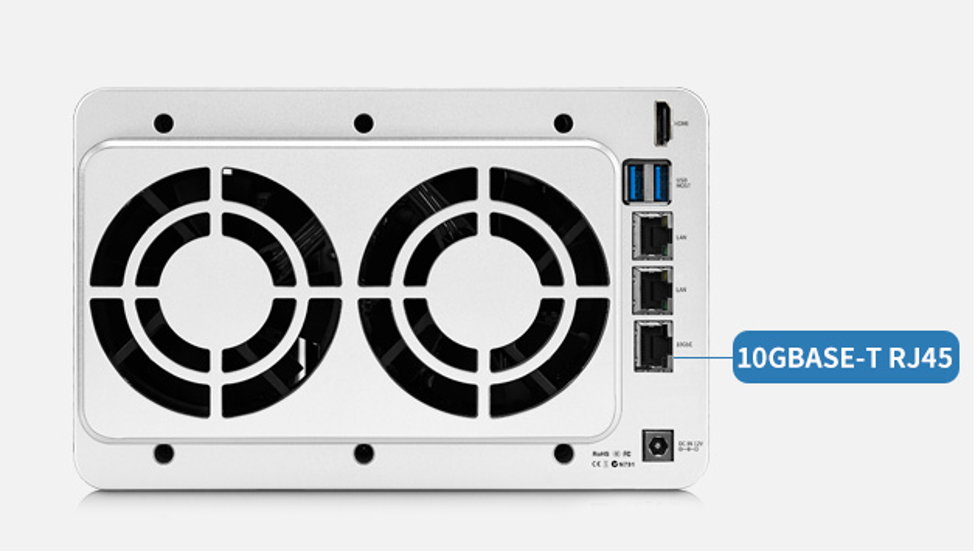 Extensive Backup Options
The TerraMaster F5-422 offers multiple backup options. Supported backup tools include AOMEI Backupper, Time Machine, Duple Backup, Centralized Backup, USB Copy, and Cloud Sync and allow users to backup data to a remove server, another TNAS, a USB storage device and other options.
Advanced File Systems
Both EXT 4 and Btrfs file systems are supported by the F5-422 NAS. The Btrfs file system introduces advanced storage and Snapshot technology to prevent data loss and reduce maintenance costs.
Supports AES Hardware Encryption
The F5-422 comes with AES hardware encryption engine that encrypts shared folders and network data transmission to protect data from unauthorized access.
Cost-effective Storage Solution
Priced at $599.99, the F5-422 is competitively priced with its high-speed 10GbE networking support.