India has ousted the U.S. to become the world's second largest smartphone market after China, according to a new market research report on Thursday. Figures aggregated by industry analyst Canalys show smartphone shipments in India in the third quarter of this year rose above 40 million units for the first time, representing 23 percent annual growth.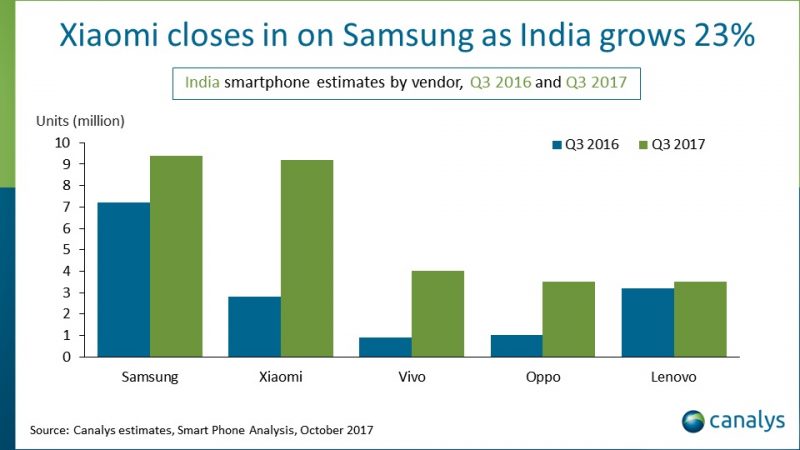 "This growth comes as a relief to the smartphone industry. Doubts about India's market potential are clearly dispelled by this result," said Canalys Research Analyst Ishan Dutt. "There are close to 100 mobile device brands sold in India, with more vendors arriving every quarter. In addition, India has one of the most complex channel landscapes, but with low barriers to entry. Growth will continue. Low smartphone penetration and the explosion of LTE are the main drivers."
Samsung and Xiaomi, which shipped 9.4 million and 9.2 million units respectively, accounted for almost half of the total market, with Xiaomi expected to overtake Samsung if things continue. Meanwhile, Chinese trio Vivo, Oppo, and Lenovo also posted strong sales in Q3 2017.
Apple's sales, which were too low to make the chart, still indicated impressive growth, with iPhone shipments more than doubling to 900,000 units compared to Q3 2016. However, the relatively high price of iPhones has so far meant smaller adoption rates despite the introduction of lower-priced devices and discounted older models.
It's also worth considering that Apple only began local production in India earlier this year, while the Indian government has been mulling tax and policy exemptions sought by Apple for setting up more facilities to assemble iPhones. Apple currently assembles iPhones at plants run by supplier Wistron, thereby satisfying India's requirement that 30 percent of products sold by foreign companies be manufactured or produced within the country.
Apple also wants to open its first physical retail store in India as early as 2018, and the company is reportedly looking to open four to five flagship-class stores in the country over the next five to ten years. Meanwhile, China remains the biggest smartphone market by some margin, with more than 110 million shipments per quarter.